Today is the day against DRM (Digital Rights Management).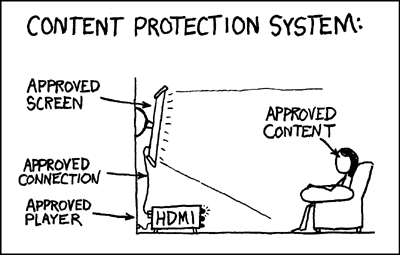 © xkcd
This picture is licensed under a Creative Commons Attribution-NonCommercial 2.5 License.
Richard Stallman, President of the
Free Software Foundation
:
"The motive for DRM schemes is to increase profits for those who impose them, but their profit is a side issue when millions of people's freedom is at stake; desire for profit, though not wrong in itself, cannot justify denying the public control over its technology. Defending freedom means thwarting DRM."
I had buy my kindle DX and i think to have the right to use it in any possible way. formatting it or installing a different kernel but DRM give me no freedom on most stuff that i buy and sometime is also absurd like in Italy for mass media device we have to pay a tax on it because in the future-use we can maybe install some copyrighted software or buy a computer and have to pay lot of money for a System Operator like Microsoft or Apple software that i never used, that's weird DRM is taking to power in every aspect of our lives, making you pay what is free for definition...
and not happy of this is also making the way that you have to contribute on your cause also if you are against it.
like lot of industries making not bad product but limited by DRM and with little other chose in different ways if you don't want the DRM and much more expensive...